06/04/22 Antero Reservoir
     Trip Captain:  David Van Treuren
     Phone Number: 303-856-3639
     Email: RDVANT1@gmail.com
Antero Reservoir has been reknown for years as the home of large trout. This high-elevation reservoir (at about 9000 feet) is relatively shallow (18 feet or so) which, when combined with a lot of bug life, provides the perfect breeding ground for growing large Brown and Rainbow trout. However, other species, such as cutthroat trout, also inhabit these waters.
Antero - 'first' in Spanish - was the first dam on the South Platte River. The original earthen dam was built in 1909. Denver Water bought the property in 1924 and has operated it ever since. The reservoir fills with flow primarily from the South Fork of the South Platte River. When full, this still water covers almost 20,000 acre feet.
Because of the age of the dam, Antero has seen repairs and closures for dam work. The most recent was in 2015, with the reservoir re-opening in June of 2017.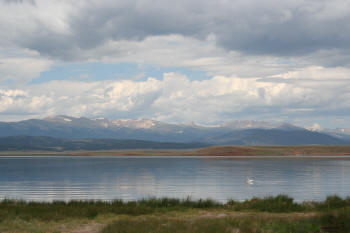 You can fish Antero from the shore, but your best luck will be found by fishing from a craft. Bellyboats/float tubes are popular, as well as hand-propelled and motorized boats. NOTE that as of June 5, 2017 the following regulation applys: "Hand-launch boats, such as row boats, canoes, kayaks and float tubes, will be allowed on the reservoir starting June 5, 2017. However, neither motorized boats nor trailered boats will be allowed and the south boat ramp will remain closed until further notice from Denver Water.
A bonus at Antero is FREE camping, yes, free. The campground is located on the south shore within 100 feet of the lake. There are 38 campsites, a restroom, and some sites have picnic shelters. No reservations - first come, first served, but it seems like the campground is rarely crowded. Bring bug spray! The trouts' eventual food proliferates in the area.
The South Fork of the South Platte, upstream, can be loads of fun to fish. Public access is available on almost 4 miles of the stream at 63 Ranch and Knight-Imler SWAs (State Wildlife Areas). In the fall, brown trout migrate up the stream for spawn, and some of them are huge.
South Park weather is fickle - calm and sunny can turn to thunderstorms and wind within, seemingly, minutes. Be prepared if in a hand-propelled craft by staying close to shore when storms appear, and know where to get off the lake. Lightning can be an issue - in this area of few trees and high elevation, you may be one of the taller objects near or on the water.
Gear:
Antero can hold some BIG trout. The Colorado record cutbow was landed at Antero and weight 18 pounds, 8 ounces, 28.5 inches long. All the trout have the potential to grow into being one of the larger trout you will ever catch
Make sure you use a strong enough line/leader/tippet to match the size of fish you expect.
Flies like scuds, wooly buggers,midges, adams or similar if there is a hatch of larger flies, numerous beadhead nymphs (generic). Our trip captain  also recommends Callabeatis, damsel flys and streamers.
How to Get There:
Antero is located northeast of Hwy 285 and Hwy 24 intersection in South Park, south of Fairplay and north of Antero Junction.
From the north (Fairplay) - go south on US Hwy 285 to Hwy 9. Then south to US Hwy 24, west on County Rd 80 (for north shore) or west on County Rd 78 (for south shore)
From the east (Hartsel) - go west on US Hwy 24, west on County Rd 80 (for north shore) or west on County Rd 78 (for south shore)
From the south (Antero Junction) - turn east off US Hwy 285 onto US Hwy 24. Go west on County Rd 78 (for south shore) or west on County Rd 80 (for north shore)